Complete Heat & Cooling has been installing the Braemar range of central heating for many years, because of its superior energy efficiency and flexible features.
Braemar Range & Features Brochure >
Save money with Braemar Central Heating
Gas ducted heating is far cheaper to run than any other form of central heating system, including reverse cycle air conditioning. So not only will your home stay nice and warm during winter, you'll save money on heating costs as well.
Australia's most efficient range of ducted gas heaters.
A single point electronic ignition system reduces gas consumption by eliminating the need for a continuous pilot light.
Controlling the temperature so that rooms aren't needlessly overheated ensures that your heater uses the minimum amount of gas required to heat your home which ultimately saves on running costs.
There is a Braemar system for all homes and budgets, with 3 STAR, 4 STAR, 5 STAR, 'Super 6' STAR, and 7 STAR Equivalent options.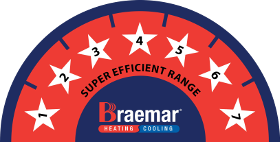 Custom designed to suit your home
Another reason Braemar Ecostar heats your home so effectively is because of our computer-assisted, Braemar central heating sizing guide. Exclusive to Braemar, the program accurately profiles the size, perspective and main characteristics of your home. This works to ensure the best installation plan and the most ideal heating system for you.
MagIQtouch Smart Controller and WI-FI Smart App
Smart, sophisticated and incredibly intuitive, your MagIQtouch controller makes operating your central heating heating a breeze. Its discreet and modern design will blend seamlessly into the décor of your home.
Looking similar to your MagIQtouch wall controller (for ease of navigation), the MagIQtouch WI-FI Smart App gives you the control to run your central heating via your wi-fi or mobile connection.
MagIQtouch Smart Controller Brochure >
Comprehensive warranty
Every single Braemar ducted gas heating unit is made from premium grade materials and supported by a comprehensive factory-backed warranty. The Braemar industry standard 7 year comprehensive warranty for residential ducted gas heating also comes with a 10 year heat exchanger and burner warranty.
While Braemar engineering and quality control procedures mean we don't think you'll ever need to use it, their warranty is there for your protection and peace of mind.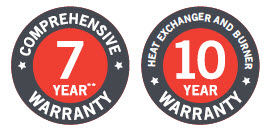 **Seeley International 7- year comprehensive warranty valid from September 2016