Rheem are world leaders when it comes to manufacturing continuous flow gas water heaters.
World class Japanese built gas water heaters are sold on a global scale, and we are proud to install them here in Auckland.
Rheem Gas Continuous Flow Brochure - Water Heating Catalogue >
Premium Rheem Gas Continuous Flow Installation Service
Complete Heat & Cooling has expert gas fitters with many years experience installing Rheem Continuous Flow and Rinnai Infinity systems throughout Auckland City and North Shore. We are prompt, work to our quoted price, treat your property and time with respect, and tidy up after ourselves.
Energy efficient water heating
Working differently from traditional storage water heaters, gas continuous flow water heaters only heat water on demand rather than heating and storing water until needed. All Rheem gas continuous flow water heaters have a 6 STAR energy rating.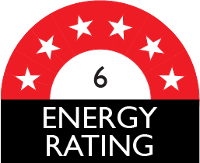 Endless hot water
Like the Rinnai Infinity series, Rheem Gas Continuous Flow water heaters are ideal for homes with high peak loads or when hot water is required occasionally such as at a holiday home.
Space saving
Rheem Gas Continuous Flow units are compact and an excellent choice where space is at a premium. They can be conveniently mounted to, or recessed into, your exterior wall, taking up less space.
The right water heater for your home
The Rheem Gas Continuous Flow range has a water heater for all homes and requirements.
Rheem 16 - 1-1.5 Bathrooms, 1-3 people. An ideal solution for compact home sites, baches, cribs or apartments.
Rheem 20 - 1.5-2 Bathrooms, 2-4 people. Medium capacity model ideal for small to medium sized homes and apartments.
Rheem 26 - 2-3 Bathrooms, 4-6 people. A popular model in more temperate areas, with the capacity to suit most homes.
Rheem 27 - 2.5-3 Bathrooms, 4-6 people. The most popular capacity, ideal for larger families with limited space and high demands for hot water.
Warranty
Rheem offer a 10-year warranty on the heat exchanger and a 3-year warranty on parts and labour.
Do you need a new gas hot water heater?